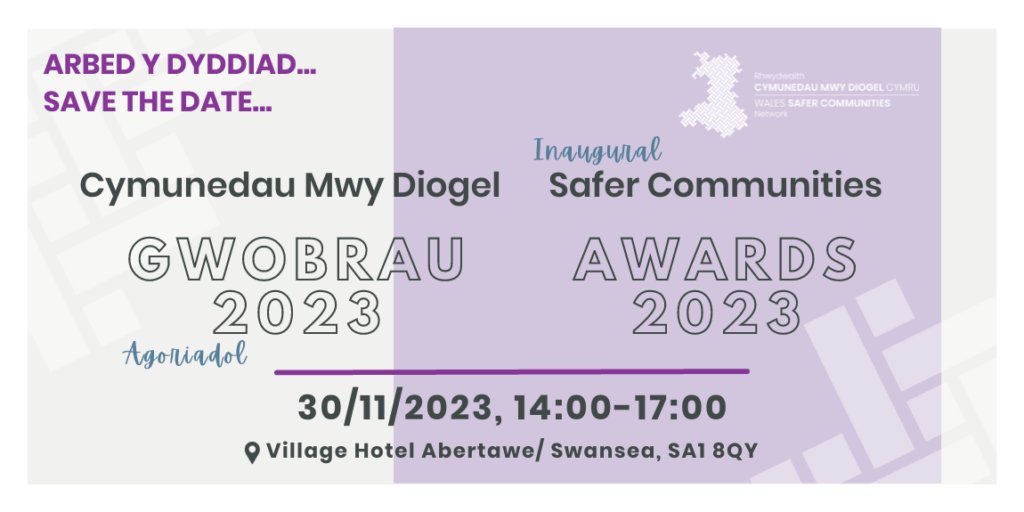 What: Inaugural Wales Safer Communities Awards 2023
When: Thursday 30 November 2023, 14:00-17:00
Where: Village Hotel Swansea, SA1 8QY
Across Wales, Community Safety Partnerships and other partners are working individually and together so that everyone in Wales feels safe and free from the fear of exploitation, crime and disorder. This work is often carried out quietly and by a small number of people who have a passion for making a difference to individuals, families and communities.
The Safer Communities Awards 2023 are being held to recognise outstanding contributions to community safety in a multi-agency context. The afternoon event will be celebratory in spirit and recognise those who have had a real impact on people's lives throughout the year.

As well as recognising individual's efforts and collaborative projects and partnerships, this will also provide a spotlight for awardees, colleagues and wider community safety professionals that their hard work is valued and makes a real difference to individuals and communities across Wales.
There are fourteen categories for awards with category winners selected by an award panel.
Anti-Social Behaviour
Crime prevention
Equalities, Inclusion and Cohesion
Modern Slavery and exploitation
Offending and justice
Public Safety
Safeguarding
Early Intervention
Serious Violence
Organised Crime
Terrorism and extremism
Violence Against Women and Girls, Domestic Abuse and Sexual Violence
Governance
Partnerships