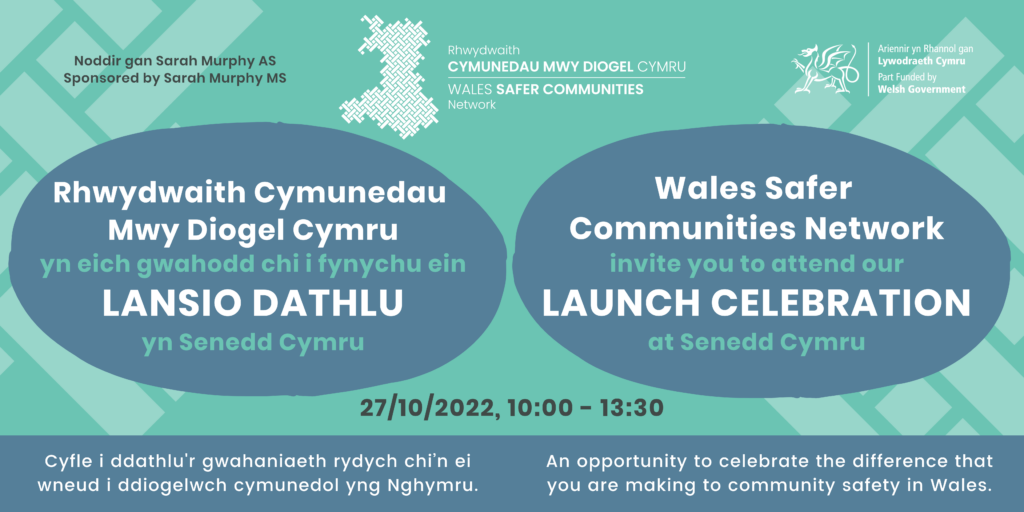 We invite you to attend the Wales Safer Communities Network Launch at Senedd Cymru on 27 October 2022, 10:00 – 13:30, to celebrate the difference that you are making to community safety in Wales. Hear from our partners and stakeholders, including an opening address from the Minister for Social Justice, Jane Hutt MS.
Presenters will include the Co-Chairs of the Safer Communities Board and the Head of the Safer Communities Network, with examples of best practice in community safety from across Wales by Welsh Councils, Policing in Wales, Fire and Rescue, Probation and Health.
Registration will open at 10:00, and the Launch will begin at 10:30.
There will be an opportunity for delegates to network over a buffet lunch.
Photography and filming may occur at the Launch. If you DO NOT wish to be photographed or filmed, please get in touch with us as soon as possible, at safercommunities@wlga.gov.uk.
The Wales Safer Communities Network Launch is sponsored by Sarah Murphy MS.